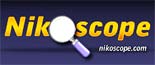 By NIKONIANS.ORG March 21, 2006 – Finding camera reviews and photography information on the Web is now easier for those who prefer the Nikon brand.
The Nikonians new search engine dubbed NikoScope has been quietly weathering beta-tests with the help of the 40,000-member online community, which has been gathering news, articles, reviews, and lively forum discussions for the past six years.
As Nikonians.org grew in membership the free information available at the site expanded to a large resource library covering a wide range of photography topics surrounding the Nikon brand.
Keeping up with that much information required an internal upgrade to the site's search engine" says Nikonians co-founder Bo Stahlbrandt.
"We have over 400,000 pages of Nikon related content on our site alone, and our members wanted access to that, as well as the rest of the Web, all from one portal," he said.
"The result is NikoScope, a fast search engine built on modern technology, designed to gather and sort not only our published information, but also the relevant resources of the Internet."
Stahlbrandt describes NikoScope as a high-tech search engine with a custom touch that requires hand selection of relevant material.
"We opted for manually selecting the sites we are spidering, not just letting anyone get listed. Instead of getting over 10,000 or more results on a search for a specific camera, you will get significantly less, maybe only a 100 hits," he said.
"But the difference is those results are more likely to have relevant information about that camera, not just mere mentions of it. The Nikonians community is very vertical and our success and strong traffic is based upon it. I expect we will see a similar, strong growth for NikoScope"
The NikoScope index is updated several times per week with hand picked, quality websites and resources for photography and imaging.
Designed for use by average photography consumers as well as professionals, the search engine, like the community of Nikonians who developed it, leans specifically to Nikon related information.
source – nikonians.org